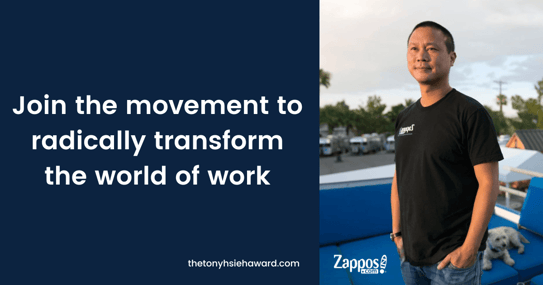 It's one thing to say you're a progressive and innovative leader – and it's an entirely different thing to actually be one.Ultimately, it comes down to the people who "say" and those who "do."
Look no further than Tony Hsieh.
As CEO, Tony did far more than grow Zappos from $1.6M to $1B in nine years. He redefined what it meant to build and sustain a winning culture of inspired humans.
He inevitably had an impact on every single person he met.
Tony's legacy lives on as a movement that will continue to transform our world of work for the better.
That's the essence of the Tony Hsieh Award.
"The Tony Hsieh Award seeks out innovative and clever best practices that elevate humans in the workplace. We're looking for value-driven leaders, entrepreneurs and organizations who are implementing innovative practices to enhance work and employee experience, drive productivity in extraordinary ways, and unleash human potential."
The leaders who are part of this unique community are ones worth celebrating – and collaborating with.
Why?
Because they are committed to disrupting traditional human capital and business models that hold people back from reaching their full potential.
Take a page from these incredible thought leaders and game-changers who are contributing to this critical conversation.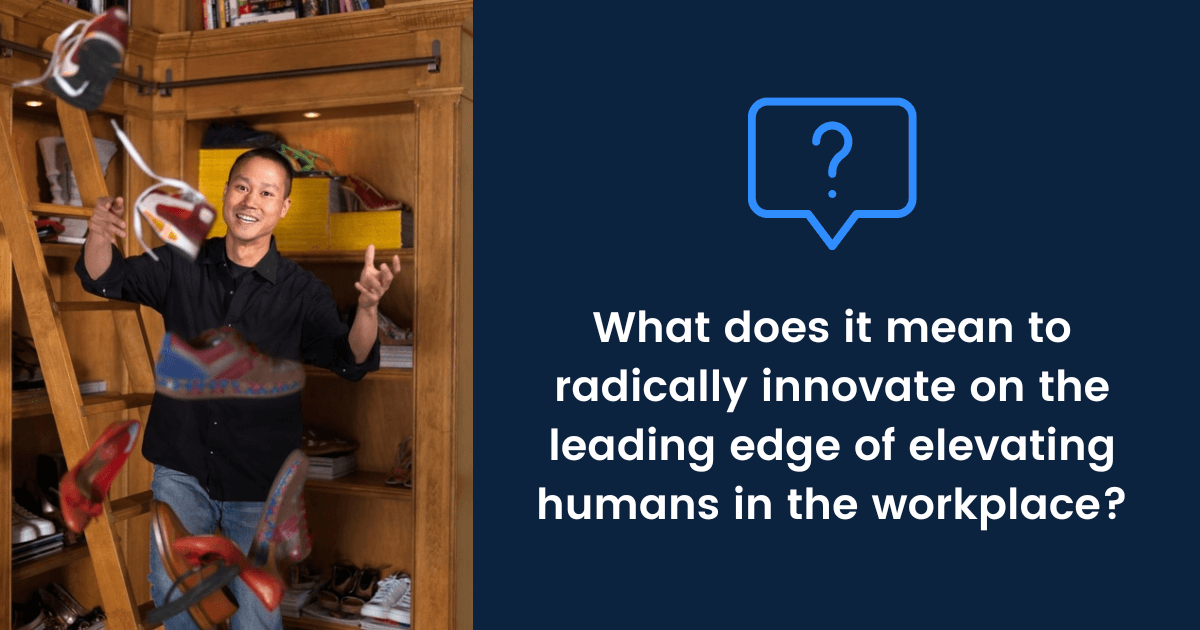 "Make work not suck" – Adam Grant



"What if when people first joined an organization, they could become culture detectives? They're in the perfect position to observe the values and norms. Because they're insiders they understand a little bit about the organization – but they're also outsiders. They haven't yet taken for granted the assumptions that need to be questioned."
"Using AI to elevate humans in the workplace" – Peter Diamandis



"The next decade is all about AI in service of humans. It's how do we teach people to have AI-human collaboration where they're working in a way, and this is from Keith Ferrazzi's terminology of collaboration, where you're not working on your own, but you're collaborating with AI to do an even better job than the AI could do or you could do on your own."
"Team-empowered leader selection" – Pim de Morree



"Involving the team in one way or another in selecting their manager is a very powerful way to create more engagement – and also to bring people more into the business so they truly feel connected to what's going on."
"Career as a service" – Katerine von Jan



"What if we curated playlists for roles like we do for music and news on Spotify? Hear about the latest and greatest experiences available to us. Learn what a day in the life of those roles might look like from those people who would really know. Favorite roles that excite us and add them to our career playlist."
"Creating a culture of respectful disagreement to elevate" – Tim Urban



"Collaboration is more than cooperation. It's actually a bunch of individual brains connecting together like neurons in a larger brain. And that larger brain is often amazing at radical innovation. So when I think about radical innovation in the workplace, I think about a workplace where the brains can connect together. What that means is that everyone says what they're really thinking, which means often that there's going to be disagreement, and that disagreement is thought of as a good thing, respectful disagreement. The way that works is people treat people with respect. And they treat ideas with no respect necessarily. If an idea comes out, they don't like it, they'll say it. That's how you have real brains connecting."
"How can we help you do the best work of your life" – Chip Conley



"Helping your direct reports understand that you are here to help support them to do the best work of their life not only makes sure that they understand that you want them to win and to succeed, but it also actually helps them to understand they have the agency to tell you what they need."
"Creating more life-giving ways of working" – Dirk Propfe



"When have you felt most alive at work? Start asking this question and explore it with your colleagues and listen. Lean in and start figuring out what are the small things we can do to create a more life-giving way of working."
"Leading and empowering a global network of teams" – Asheesh Advani



"Some global organizations manage through the authority laid out in their organization charts. But JA is unique in that each of our locations has its own board of directors, its own national, local, or regional CEO, and its own staff, which is why we refer to ourselves globally as a network of teams, teams which are between 5 and 25 people in size, small enough to be really innovative and act in decentralized autonomous ways. This means that we manage without authority – and our fixed, flexible, free-style framework makes it possible."
"How to achieve happiness in the 4th industrial revolution" – Amr Soliman



"One toxic person can spoil 100 people and one positive person can affect like 1,000 people. We have to spend our money on making people positive and happy."
2022 Tony Hsieh Award Winners


Curious about last year's Tony Hsieh Award winners?
It's worth checking out their stories to learn about the impact they're having in the world of work. Plus, you'll get a behind-the-scenes look at the innovative practices you may be able to leverage within your organization.
From an asynchronous remote-first work model based on trust to inclusive career-building employment for people with disabilities, what the leaders at these organizations are doing is paving the way for a better future for all.
NOW it's your turn!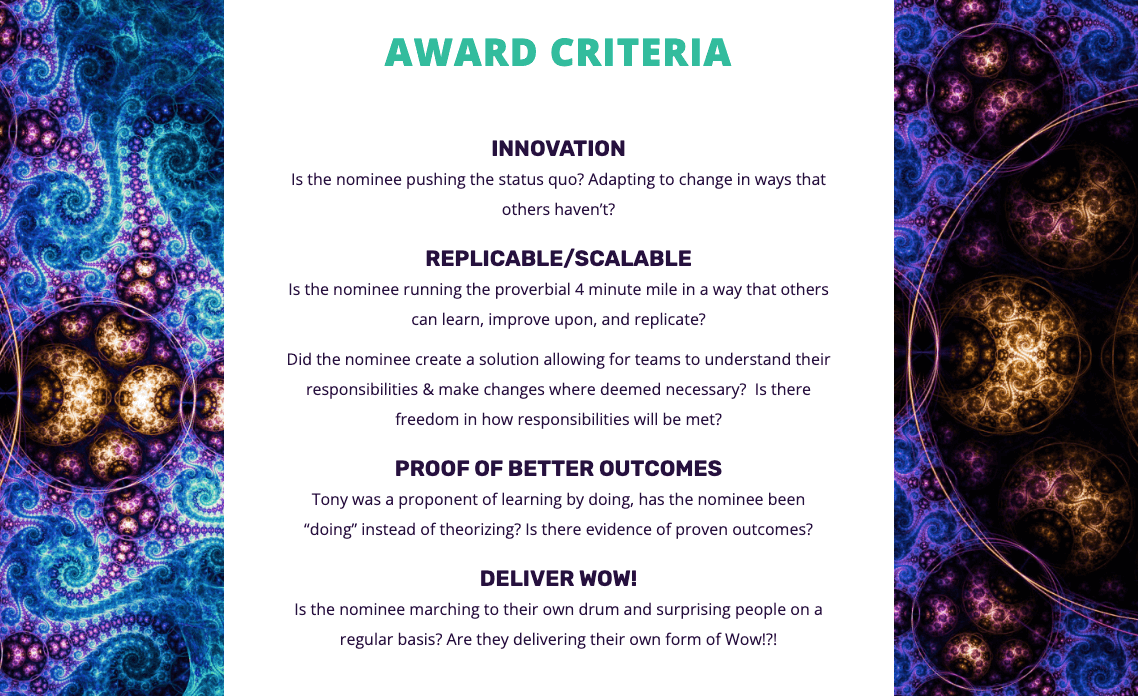 How are you fostering a more fulfilling work environment and employee experience? We want to hear about the extraordinary things you're doing that can inspire others in this special community and beyond. Apply for this year's Tony Hsieh Award!
Last but not least...
Are you interested in what it means to be part of the Tony Hsieh Award Co-elevation Community?