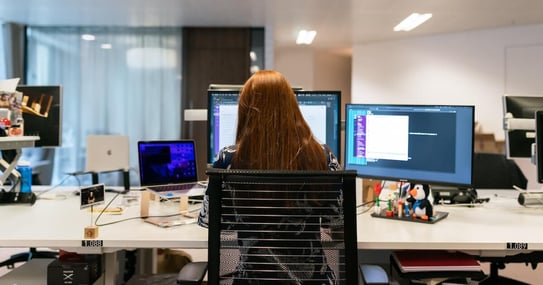 "The world doesn't owe you anything..."
This is what my Dad said to me when I set off to attend John Hopkins University for college.
See, I went to one of the worst high schools in Baltimore City. During my freshman year, our quarterback was shot. We started with 965 freshmen and graduated 235 seniors. Not one of us thought this was abnormal. That was the way life was.
So, getting into Hopkins, at first, felt like a lottery ticket, a high honor, and privilege. My dad wanted me to hear loud and clear that, despite getting to this point, I should expect nothing.
I didn't listen.
By my sophomore year, the "law of familiarity" had kicked in and I began to feel like the world owed me something for all I had been through.
I was brought back down to earth quickly.
My mom had two pancreas transplants and two kidney transplants. She lost her vision. She was diabetic and constantly struggling with her health my whole life. For years, I watched her navigate an unfair and complex healthcare system, helping her as best I knew how, but in the end, it wasn't enough.
She never left the hospital when I was in college, and I needed to start making money.
School and football quickly took a backseat.
I share this story because I wonder how many of us are taking for granted the idea of "work from home."
It's been nearly three years since this new way of working was forced on us... and I know for me it's been nothing short of game-changing.
Getting back travel time, commute time, and an office lease have all been massive perks.
And yeah, it's a long day in back-to-back Zoom meetings... but as this larger debate unfolds about what work looks like and from where... I wonder:
Are we looking at hybrid work as a right or a privilege?
This is not an argument for or against. Rather, a reframing of work culture. If remote work is a right, it's handed to employees, no questions asked.
But if it's a privilege, how might we approach the conversation, as leaders with employees, about how to do all of this differently? How might we collaborate on best practices so we all win?
At SHIFT, we looked for new patterns of success in getting work done effectively, engaging with one another, and collaborating asynchronously to earn the right to work remotely.
If we take the approach that the world doesn't owe us anything, how might this change our approach to finding the best solutions to drive business results in a hybrid environment?
Employee development is going to continue to be an important part of the equation to building a healthy and high-performing team in a hybrid environment.
Dive into it with us. We are going to be hosting a SHIFT Summit in Q1 2023 to help our clients build their digital emotional intelligence and leadership.
For non-clients, the SHIFT Summit will be $199/person.
Let us know if you are interested in getting your team better equipped to kickoff next year.