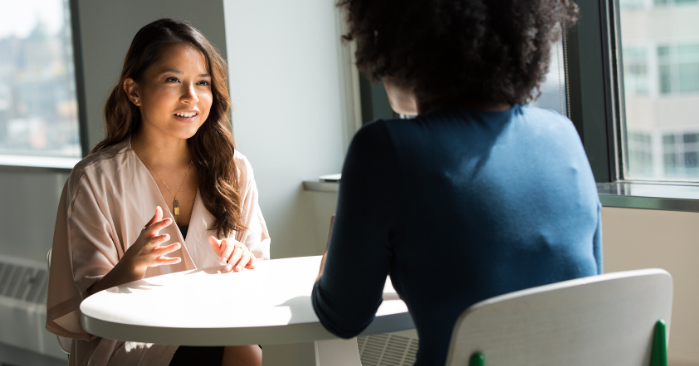 The beginning of a new year is always an exciting time—especially when it coincides with the dawn of a new decade.
Like many others on the threshold of 2020, your employees likely spent the end of 2019 and the start of January outlining their goals for the new year. Given the sense of completion, closure, and renewal most people experience this time of year, there's no better time to analyze the past as a means of generating clarity and direction for the future.
A study by Dr. Gail Matthews found that 70 percent of people who wrote, ranked, and reported on their goals successfully achieved their goals, compared to only 35 percent of those who kept their goals to themselves, without writing them down.
While we routinely maintain focus throughout the year, we believe that developing goals in this fashion is important at SHIFT, too. At the end of 2019, each of us completed our RESET Proclamation—and, like we do with our clients, we encourage you to do the same.
This annual exercise gives you a chance to reflect on the past year, design the next best way you see fit, and set a plan in motion—thus acting as the inauguration of the professional and personal goals that you want to achieve in 2020. This will not only help motivate and direct you, but help you produce the business outcomes needed to move you and your organization forward during the coming year.
Despite the careful consideration needed to plan it all, it's only half the battle. Now comes the hard part: execution. Unfortunately, many people will fall short because they lack a proper support system to bolster their efforts—something we find paramount to both individual and team-based success. At SHIFT, not only do we have this support structure in place internally, but we also work with our clients to implement it. We call it the High Performance System.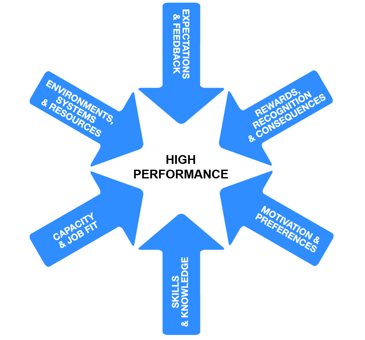 Each of the six arrows represents a critical area of the business that influences business outcomes:
1 Environments, systems, and resources
2 Expectations and feedback
3 Rewards, recognition, and consequences
4 Motivations and preferences
5 Skills and knowledge
6 Capacity and job fit

Only when all six areas are fully aligned will an organization produce a barrier-free work environment for their employees, thus elevating performance to the highest and most consistent levels of success—and that's exactly what the High Performance System is designed to do.
Let's look at two of the six areas to see how this alignment supports the execution of your employees' 2020 goals:
Expectations and Feedback
Your employees' goals can't be developed in a vacuum. According to Gallup, employees who say their manager includes them in goal setting are 2.3 times more likely to say their performance goals are realistic than employees whose manager does not.
Managers must align on and review respective goals with each employee to make sure they're in line with the expectations of the business. In turn, employees need to regularly keep managers abreast of their progress. This can be done through a performance management tool or a weekly status report. Ideally, this creates a healthy habit of managers meeting with each employee one-on-one to discuss successes and challenges during the past week. The feedback managers provide is important to employees for two reasons:
#1- It keeps them accountable to their plan. Employees need to know whether or not they are meeting expectations. This shouldn't just happen at a year-end annual review, it should be ongoing in both formal and informal settings.
#2- It keeps them engaged in their work. According to Gallup, feedback is a means to employee engagement. Only when your employees are engaged at work will they then go home and be engaged with family, friends, and their community.

Skills and Knowledge
Your employees might have developed the finest SMART goals you have ever reviewed. But what if they are not attainable? What if your employees lack the skills and knowledge necessary to accomplish their goals?
Part of the annual goal-setting process needs to include identifying areas for skill development and a means for acquiring these new skills. For example, you might require each employee to select two skills they want to add to their personal skill stacks in 2020. These should be skills that are needed to produce outcomes that will drive the business forward. Your employees can learn these skills through taking a course online or attending a workshop offered by your company. They can update their manager on their progress towards acquiring these new skills during the weekly one-on-one meetings. You might even consider having them teach what they have learned to others on your team. In the end, this process helps to ensure that no employee suffers the frustration of working on a goal without the skills to accomplish it, and thus saves them from becoming disengaged.
Writing down your goals and developing corresponding action plans will ensure you achieve what you set out to do. But to guarantee high performance, employees must have the proper support system in place to achieve outcomes that drive business results.
Ready to Accomplish More in 2020?
Our niche at SHIFT Consulting is artfully fostering the intersection of employee engagement and performance excellence. We help leaders like you create engaged, all-in cultures━so let's discuss how we can make 2020 your best year yet.
For a one-on-one intro session to SHIFT's unique approach schedule an exploration session with me or a fellow SHIFT expert. We'll work with you to establish the right goals and rally your team around your strategic plan.