At SHIFT our commitment to employee engagement is unwavering.
Not just within our walls, but for our clients, too. We know that employees who feel passionate about what they do and valued by who they do it for feel more fulfilled inside and outside of the workplace.
We also know that this kind of all-encompassing fulfillment leads to:
increased engagement,
boosted productivity, and
higher performance.
Not to mention, more collaboration, smiles, and fun at work.
In fact, modeling the way as an all-in, engaged culture is exactly what landed us as an Inc. 2018 Best Workplace. Being recognized by Inc. as one of the country's best workplaces, two years in a row, is a testament to our team's commitment to transforming workforce engagement!
This honor also validates our philosophy that organizations should treat their employees like their clients, and their clients like their employees.
Take a look at SHIFT's Inc. Best Workplaces Data Overview below: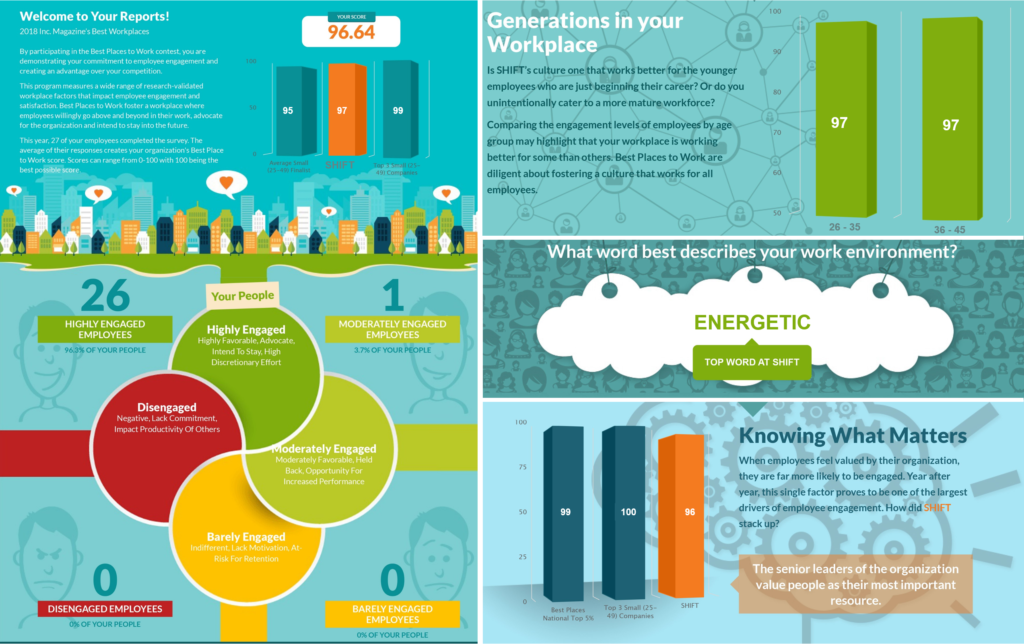 The out pour of care and passion from our team nearly brought tears to our eyes! Just take a look at a few of the open responses that our team volunteered during the survey process.

"SHIFT is an organization that practices what it preaches. It goes ALL IN on everything it aims to achieve internally and externally. This organization is so incredibly dedicated to helping their clients achieve their goals and be better. If they don't feel a client is willing to be open to change and go all in, they tell them that it won't be a good use of either parties' time or resources to engage in a partnership; they won't just take something on because it's revenue. The management team is beyond dedicated to being there for their employees. Something particularly special is the transparency management keeps with the team. Decisions are explained in detail, there are no smoke and mirrors, we all know how our company is doing. Accomplishments are celebrated together. There is an extreme level of trust between managers and their reports, so 1:1 time and goal­setting are REAL, not just things the company says they do like other places I've been, and the trust enables everyone to be truthful and open so they can really get where they are trying to be. The opportunities to learn ­ about the world, about yourself, about business, your work ... everything ­ are there at every turn. The mantra here is "Better You. Better Us. Better All." I could list a million ways that SHIFT lives these words. You don't need to be two different people ­ your "work" self and your personal self. They want you to be YOU, they care about your whole being ­ be who you are wherever you are... "


"I've never in my life worked with a more passionate and dedicated team of individuals who encompass so much authenticity, knowledge, finesse, and drive. The team at SHIFT, regardless of hierarchy, tenure, or role, cares deeply about one another (both personally and professionally), our clients, and our community. Past the people, this organization breathes so much life into workplaces, our own and others, and into the teams within them, offering a fresh and new perspective on what it means to feel genuinely happy and fulfilled at work and in life. I love, support, and care about our mission to create meaningful change for people and companies that empowers individuals to find their passion, take a stance, embrace their purpose, and work to make the world a better place. On a personal level, I've never been let down by this organization. I've experienced exponential growth and have been entirely involved in shaping my role within the organization based on my strengths, interests, and what's important to the success of the organization. Our leadership team undoubtedly values who I am as an individual and as a component of this team, I know this because they say it and they show it. For me, working for SHIFT is not just about the perks and benefits ­­which are incredible ­­ it's about being proud to say that I work for an organization with a mission and vision I'm committed to carrying out, and knowing that each person I work with will have my back every step of the way..."

"There are an infinite number of reasons why SHIFT is a best place to work. Let's start with the benefits: Fully paid health and dental, Paid garage parking and cell reimbursement, Remote work and flexible hours, 12-­weeks paid maternity leave, 2-­weeks paid paternity leave, Paid SHIFT "You" days, 4-­weeks PTO out of the gate, The "Thank you, we love you" employee anniversary program, Monthly onsite acupuncture, On­tap Kombucha, Monthly SHIFT Socials, Professional development opportunities and resources, Healthy office snacks. What TRULY makes this organization a best place to work for me, are the people. If you want to surround yourself with people who consistently strive to better themselves and others through their work, continuous learning, community outreach, and just every day interactions THIS is definitely the place to be. I am inspired by the drive, passion and genuine compassion that exudes from each and every person that makes up SHIFT. I have grown personally and professionally since starting here and couldn't be more happy about what I've learned and accomplished AND I know there is so much more ahead as we continue to shift the work world to transform the real world. We are touching people's lives, transforming organizations and living our mantra of better you, better us, better all. Doesn't get better than that!
We believe that the single greatest lever of human potential is a more engaged workforce.
Do you?
Better you. Better us. Better all.
To read more from SHIFT, get in touch and stay in touch by clicking here.