The 13th Rule of Leadership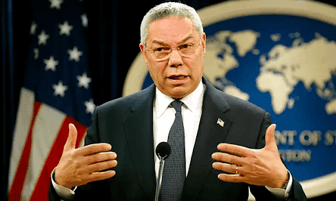 On Monday, the world said goodbye to General Colin Powell, the first black Secretary of State in the U.S., who died at the age of 84. Regardless of what you think of his politics or role in the Iraq War, his legacy as a leader will live on.


Defining leadership is difficult. Volumes have been written on the subject. Almost any definition of leadership includes some element of inspiration. Anyone can give orders, control with power, provide direction, develop a plan, etc. but, real leadership always inspires people and motivates them into action to do things they would not have otherwise accomplished on their own.
General Colin Powell lived by and was known for his 13 rules of leadership. The 13th rule is one that we could all use more of, especially in this chronic crisis we all find ourselves in.
"Perpetual optimism is a force multiplier."
Optimism helps us adjust quickly to adversity. After setbacks, we can get back up faster.
Perpetual optimism is defined as "never-ending hopefulness and confidence." Force multiplier refers to a tool that helps you improve, enhance, strengthen your work to produce better results.

We love General Colin Powell's idea of perpetual optimism as a force multiplier. The key is to make sure that optimism is genuine – otherwise, you risk falling into toxic positivity. It's often subtle, but it happens more than you may realize.
This article defines toxic positivity as the overgeneralization of a happy, optimistic state that results in the denial, minimization, and invalidation of the authentic human emotional experience. It prevents growth and serves as an avoidance mechanism. It's a "good vibes only" approach to life. While often well-intentioned, this mentality can be harmful and dismissive of another's situation. It's worth learning more about toxic positivity.
"Everything worthwhile in life is won through surmounting the associated negative experience. Any attempt to escape the negative, to avoid it or quash it or silence it, only backfires. The avoidance of suffering is a form of suffering. The avoidance of struggle is a struggle. The denial of failure is a failure. Hiding what is shameful is itself a form of shame." – Mark Manson, The Subtle Art of Not Giving a F*ck: A Counterintuitive Approach to Living a Good Life

---
Hidden Driver of the Exodus?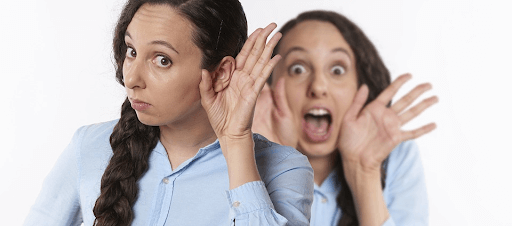 Employee engagement has about 100 different definitions, but it comes down to employees feeling a positive connection to their work. More than that, it's when employees feel invested in and enlivened by what they do.
Disengaged employees cost the U.S. over $450 to $550 billion per year in lost productivity, and only 19 percent of employees consider themselves "very engaged." To address this, organizations often invite regular input from employees in the form of employee engagement surveys.
While we're a big fan of surveys, it turns out they can sometimes do more damage than good, especially when employees don't feel their feedback leads to meaningful change. Worse yet, many don't ever see the results from the surveys, including executives.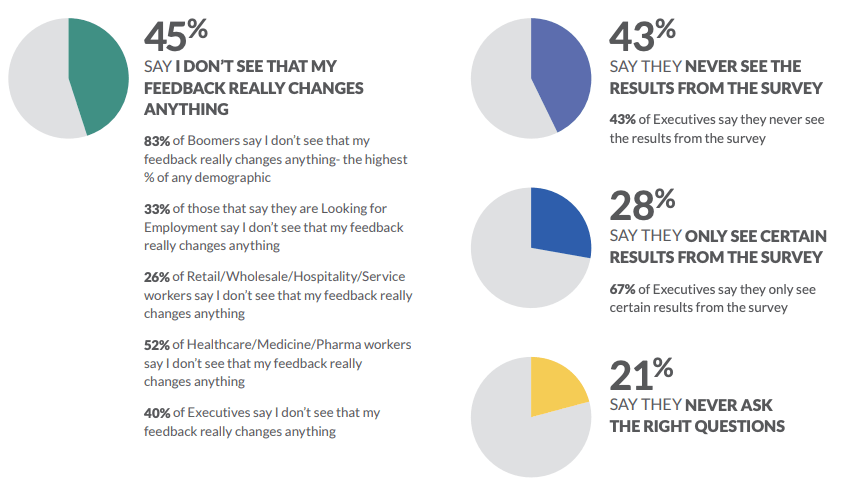 In a recent study of 2,000 U.S. workers, Explorance, a leader in experience management (XM) solutions, believes they may have uncovered the key phrase that is the hidden driver behind the sudden employee exodus, aka the Great Resignation.
"Feedback that goes unheard"
The survey found that a majority of employees are eager to share feedback with employers and do so in the hopes of driving positive change in their workplace. However, employees – including many executives – feel that all too often their feedback goes unheard and does not lead to meaningful change.
The bottom line? Employers aren't listening and employees are leaving because of it.
How to fix it? First off, revisit your survey strategy. Doing an annual employee survey and aligning initiatives to it is sort of like checking your blood pressure once per year and using that metric to determine your food and exercise routines for the next year. That would be insane. That's what we do when we do annual surveys – it's basing everything off of a snapshot of time.

Instead, we recommend weekly pulse surveys as the best way to truly listen and understand how people are feeling in real-time. Pulse surveys win over annual surveys 10 out of 10 times.

Regardless of the type of survey you do, you MUST follow up appropriately and in a timely way. At SHIFT, we've created the Survey Engagement Process, which is a simple yet really effective way to "close the loop" in surveys.
---
Tips, Theories & Tales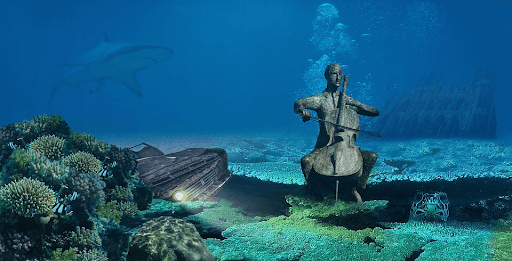 8 Tips to Nail Virtual Interviews
This article is a must-read for anyone hiring. It breaks down 8 tips for doing remote interviews and includes things you may not have considered – like – be raw and honest about COVID.
This is just one of eight. Read the additional seven tips here.
How to Get More Discretionary Effort
Check out "This Time it's Personal: Shaping the 'new possible' through employee experience" from McKinsey.
"Organizations that design an EX model that is both personalized and supported by digital experiences that augment flexibility create an enduring opportunity to attract, inspire, and keep the best…McKinsey research shows that employees at leading EX companies are more inclined to surpass work expectations, having a 40 percent higher level of discretionary effort."
Consider the EX factor, which are 9 elements needed to get the employee experience right: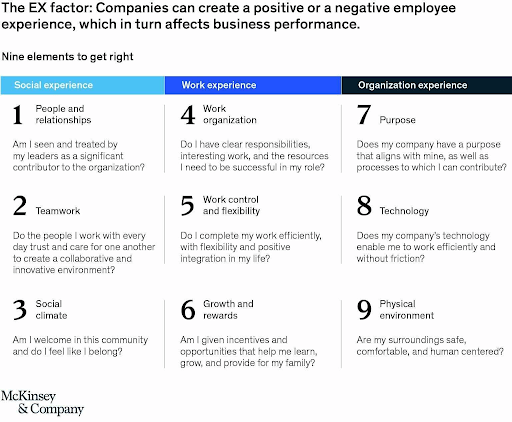 A Theory of Gratitude Towards Your Tripping Ancestor
The "stoned ape theory" suggests that consumption of magic mushrooms by our ancient ancestors kick-started the expansion of our mental capacities. To date, this highly speculative hypothesis has no hard supporting evidence, yet a new article in the journal Frontiers in Psychology attempts to argue the case for this wild theory.
If it's correct, we could owe our intelligence and social skills to a bunch of tripping primates!
ICYMI: Johns Hopkins received the first federally funded grant for psychedelic treatment research in 50 years!
The Tale of Telosa
Last week, a former Walmart executive named Marc Lore, unveiled plans for the City of Telosa, a sustainable metropolis that he hopes to create from scratch. It's expected to cost more than $400 billion and have a population of 5 million within 40 years.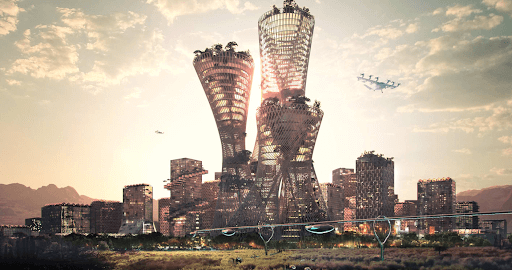 ---
Join our Stories that SHIFT Newsletter
Subscribe to get your weekly dose of inspiration, stories, resources, and entertainment delivered straight to your inbox every week. You'll be happy you did!