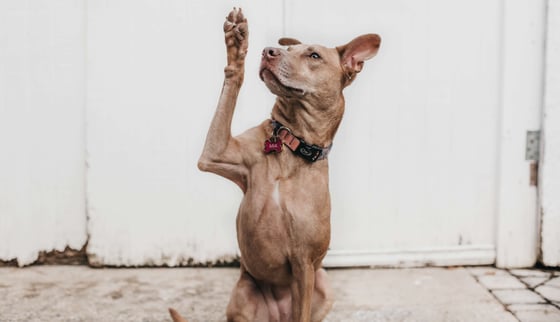 Raise Your Hand If You're Going Hybrid

Our latest LinkedIn poll found that only 16% of companies are pushing their people back into the office – and more than half (58%) are taking a hybrid approach.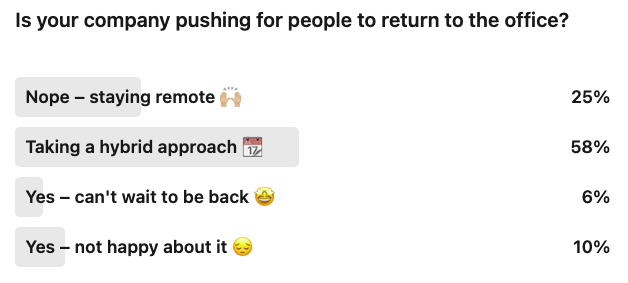 Going hybrid is not for the faint of heart. It requires the most planning to work well.
According to AT&T's recent future-of-work study:
72% of businesses lack a detailed hybrid work strategy
76% of companies don't have the right key performance indicators (KPIs) to support hybrid working models
For those going the hybrid route, you and your team must consider:
PURPOSE: What matters most to your employees in terms of where and when they work? What expectations can you realistically meet?


CLARITY: Is it an employee-led hybrid approach where they have a choice or is it a structured corporate-driven policy?


CONNECTION: With a mix of in-person and remote teammates, how do you keep everyone feeling connected to the company vision, culture, and peers?


INSIGHTS: How will you measure what's working and what's not?
---
Company Culture Change Starts Here

People are exhausted and leaders are seeing this show up in how their teams are engaging and performing.
As the current world of work continues to evolve, we all must move on from outdated strategies and ways of thinking.
What employers need more than ever is the ability to ignite behavior change.
Stories are the spark that can transform company culture, empower and excite teams, and ultimately, support business growth.
In this 15-minute on-demand webinar, you'll learn how you can use effective storytelling to move people to take action.
---
What We're Reading and Listening to


📚 Spark Brilliance: How the Science of Positive Psychology Will Ignite, Engage, and Transform Your Team
In this book, you'll learn a positive psychology driven method that will build authentic connection, spark optimism and creativity, and drive greater results from the people you lead – and for your company.

🎙 It's All In Your Head: Making Every Day Meaningful
This podcast episode dives into the stories we tell ourselves and each other in the pursuit of purpose, fulfillment, and impact.
---
Drumroll Please 🥁


With over 400K+ views on this video alone, our @storiesthatshift TikTok is picking up steam – thanks to our very own Whitney Siders and Catie Hargrove!
From navigating return-to-office vs. remote work discussions to retaining top talent, they're sharing stories and advice that everyone needs to hear.
---
Join our Stories that SHIFT Newsletter
Subscribe to get your dose of inspiration, stories, resources, and entertainment delivered straight to your inbox. You'll be happy you did!
Shoutout to our teammate Julie Gelb who helped bring this week's edition of Stories that SHIFT to life.