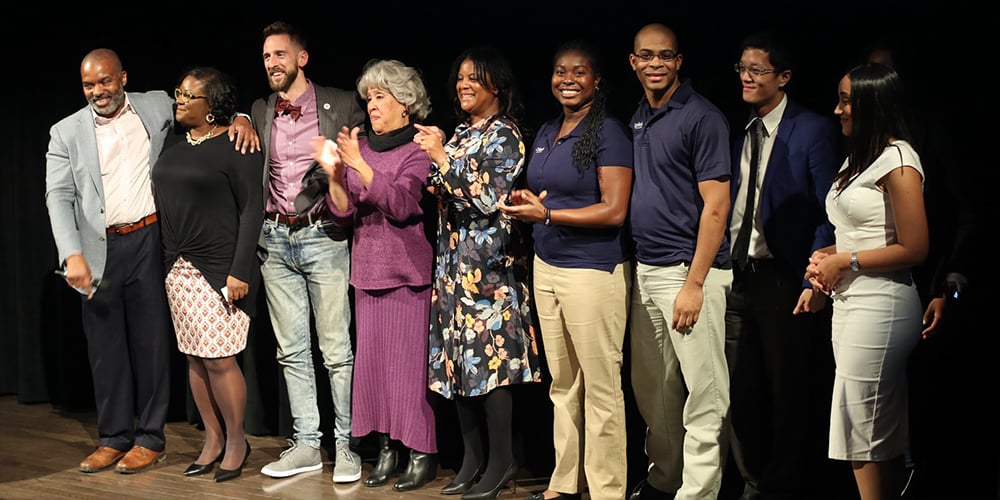 This is the first installment of a real-time series about what it's like to be raising a first-time venture fund as an African American fund manager. It's meant to be a transparent description of the challenges and opportunities as we attempt to grow a fund to support cities like Baltimore and minority and female founders.
I travel the country a lot for work. Often being invited to places like Atlanta, Trenton, NJ and Denver, Colorado to talk about the ideas on inclusion and purpose we're trying to bring to life here in Baltimore. It's pretty clear that wherever I go, many really good people are focused on these ideas, and, that extends not only to female and minority founders but also to the make up of the venture capital industry itself.
If you haven't heard of it there's a movement afoot called Founders for Change. It's a group of founders, VCs and other interested parties who are attempting to use their voice to drive more diversity in the tech industry with a specific focus on diversity of venture capital firms.
All this activity is following in the wake of another really exciting and important idea that seems to be taking hold today: That business can and should be a force for good in society and not simply a conduit for enriching shareholders. It is becoming more clear everyday that we are entering an age where business is expected to operate as an instrument of society and not just as an instrument of profit. And, that those businesses who find a way to lead with purpose are more prone to be financially successful. To put it another way, (and quote my friend Aaron Hurst) we are entering the age of the Purpose Economy where purpose, values and societal impact are going to be the main drivers of financial performance.
THE GOOD NEWS:
For the last 13 years I've been deeply engaged and dedicated to moving these issues forward and here's the good news: It's pretty clear that there is a convergence of ideas whose time has come:
We can no longer neglect our inner cities and be blind to the innovations required to make them more just joyous and equitable for all.
We must find a way to enable and encourage minority and female entrepreneurs to thrive if we want to close the gap of economic inclusion.
Business must play a major role in this transformation and a path towards that role is building more purpose-driven businesses in those communities and with those under-estimated entrepreneurs who have been left out of the innovation ecosystem in the past.
It's in this context that we founded the Conscious Venture Lab in 2013. After working with my partners Rick Frazier and Peter Derby to found the first hedge fund focused on investing in Conscious companies — and helping run that fund for six years — I decided to focus on the power of creating a grass roots movement of mission-driven, minority and female entrepreneurs in communities like West Baltimore as a path to transforming society.
I enlisted a group of new partners who knew of my work at Concinnity Advisors (our previous hedge fund), and my history of being a CEO for more than 30 years, founding five other companies, with two small exits and being named to the Inc. 500 list of America's fastest growing small businesses. Many of these individuals invested as equity members in what would become the general partner of the Conscious Venture Fund. And, in 2013 we launched the Conscious Venture Lab, an accelerator for mission-driven companies, with a focus on minority and female founders who are solving problems of urban concern. (Much of what we look to invest in fits into the category of the UN Sustainable Development Goal #11: Making cities and human settlements, inclusive, safe, resilient and sustainable).
When we launched the Conscious Venture Lab we were fortunate enough to get an operating grant from the Howard County Economic Development Authority. County Executive Ken Ulman and his Director of Entrepreneurship Julie Lenzer, were big supporters of our ideas. With their help, my partners and I were able to build the foundations for a successful accelerator program. We invested our money to build the accelerator curriculum, test and perfect a model for due diligence and fund 10 amazing companies.
Having created a fairly successful proof of concept model, a number of local angel investors and at least one high-profile billionaire Baltimore CEO took notice of our work. For the third cohort of the Conscious Venture Lab we established a small investment vehicle to invite in these new investment partners.
To date the Conscious Venture Lab has been named one of the biggest accelerators in the State of Maryland for five straight years by the Baltimore Business Journal. The companies in our portfolio are valued at more than $36MM and the value of our stakes in those companies has grown by more than 60% (money-on-money) since 2014. We were invited to be a founding partner in the Vatican supported Laudato Si Challenge accelerator. We are the only accelerator and venture fund in West Baltimore. We've invested in a total of 29 companies, 19 of which were founded by people of color or women. Our companies have created nearly 100 new jobs, received millions of dollars in follow-on investment, and among other areas of impact, trained grade school students in financial literacy, recovered more than 13 million pounds of produce that would have otherwise been thrown away and saved seven lives!!!
Oh yeah, and we were just named one of the Best Startup Accelerator Programs in the US in 2019 along with the likes of our friends at Techstars, WeWork Food Labs, Boomtown, Gener8tor, Y Combinator and 500 Startups. We're proud to be in such great company with really dedicated and talented people.
In late 2018 we decided to officially launch the Conscious Venture Fund I, with some significant fanfare as we were able to attract a 2nd of the biggest names in business and industry in Baltimore into our fund.
THE OTHER NEWS:
All sounds great right? Like we're well on our way to truly making in a difference in a city that I have come to love. After all, when you find a model that works, that creates societal impact, empowers women and minorities and creates financial returns for investors, surely the supporters we need and investors we require to scale will be eager to get involved.
At the risk of sounding like I'm whining (more on that later) let's just take a look at where we are:
To date we have had more than 300 meetings with about 115 individual investors or institutions.
Of those, 13 have agreed to invest. Investing an average of $103,846 each.
Some of the feedback we've received from investors that turned us down:
You're too early.
You're investing in a few companies that aren't based in Baltimore.
You don't have a track record.
You're talking too much about social impact and not enough about returns.
You need more venture investing talent on your team.
You're early investors could have written bigger checks.
I'd be happy to invest if you were still doing the hedge fund
(A hedge fund of international public traded investments, from an investor with a reputation for being "laser" focused on Baltimore…)
You'll never be able to invest all the money you're trying to raise.
There aren't enough talented female or minority entrepreneurs in this city.
Lots of other organizations are doing the same thing as you.
We're not in the habit of telling funds why we decided not to invest.

And some stats:
Depending on which report you consider, minority entrepreneurs receive about 1% of all venture capital dollars. Women founders get about 3%.

Less than 3% of all investors in the venture capital world are people of color.

In 2018 a Black Enterprise.com article stated that black venture firms would raise more than $370MM for the year.
Venture capital investments were more than $84.2 Billion in 2017.
WHAT I'VE LEARNED SO FAR:
One of the surprising things I've learned is that female and minority founders have been burned, turned down unfairly in their eyes and generally are weary of the fund raising trail. I don't blame them. One of the things I hope comes out of our journey is that we find as many of them as we can and expose them to what we're doing and our way of thinking. So, if you now of any who are at the seed stage and looking for capital, send them our way.
They can apply for the next round of the Conscious Venture Lab
To the idea of raising a fund: obviously when we started down this path I expected this to be an uphill battle. We're a first time fund, trying to raise a significant amount of money, to invest in under-estimated founders and on inner city problems, with a focus on building companies for stakeholders and not just shareholders. I knew it wasn't going to be easy. And I was right. And, it has been a lot harder than I thought it would be given our progress, our pedigree, our networks and early partners.
The simple facts are that raising money is hard. And, if the statistics and our experience are any measure, doing all we're attempting to do and being an outsider (IE: African American) in the venture world makes things even harder.
As I said above, I know this sounds a lot like complaining. It's not meant to be. As a leader I also know that behind every complaint is an idea or value to which someone is committed. I'm committed to the value that there are smart, dedicated, intelligent and capable people equally distributed across our society (including right here in my own shop). Opportunity on the other hand is harder to come by. As we continue to engage with potential LPs, I continue to examine my complaints about the process and, what I may be doing to thwart the goal to which I am committed.
As I do so we're going to continue to engage in this work because I know we can be successful and, when we are, we can play a small part in changing the narrative about economic inclusion here in Baltimore and beyond.
So, the stage is set for where we are and the work we've done to date. I'll be keeping this up to date with shorter posts on specific ideas, occurrences and learnings as we grow.
In the interim, I'd love to hear your feedback, have you share this with your network and join the conversation!
Apply to the Conscious Venture Lab Accelerator Program
Conscious Venture Lab is currently accepting applications for our next accelerator program. This cohort will start in August 2019 and continue our focus on urban resilience and smart cities technologies. The Conscious Venture Fund will invest $100,000 in each of the companies selected for the program. Businesses that are generating technological and business model advances that address chronic stresses in our cities are invited to apply.
Areas of focus include, but are not limited to: good jobs and economic growth, innovation and infrastructure, intractable violence, poverty, sustainable cities and communities, clean energy, clean water and sanitation, and food and water shortages. Companies who apply must be focused on providing services and/or using technologies to increase economic opportunity and create more livable and equitable urban environments.
The accelerator program application deadline is June 3, 2019.